USA based electric car manufacturer Tesla launched the tesla semi in 2017 , the truck has not hit the roads yet but over 700 units has been ordered by big freight companies among them DHL according to wikipedia.
Tesla semi (photo courtesy)
The truck is fitted with two batteries which would enable it to travel for over 907 km when fully charged and a backup generator which runs on diesel and goes for 80 Kilometres. The company also considers installing a 'megacharger' technology which is a solar system which recharges the truck. A 30 minutes charge by the solar technology enables the truck to go for 640 Km.
The class 8 trucks costs 180,000 USD in USA which is equal to 18 million Kenya shillings but the prices may increase when the trucks are imported to Kenya due to import duty, railway levy, inspections and other forms of taxation charged to motor vehicle imports.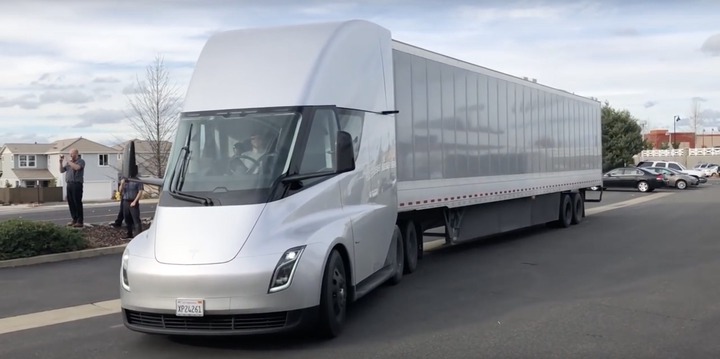 Another cool feature of the truck is the autonomous technology which enables the truck to 'drive itself' . This feature depend on camera and sensors placed all around the truck. The technology takes charge when there is no response from driver and a car or a passenger is in close proximity and it responds by braking or steering to avoid accidents.
Tesla semi driver's position.
source ; Tesla website Readhttps://www.tesla.com/semi
Content created and supplied by: dailyreporter_ke (via Opera News )